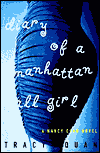 I've recently come across a number of books detailing, to different degrees and in different ways, the lives of professional prostitutes. Mainly semi-autobiographical novels or true accounts, there might actually be a trend developing ever since the 2001 publication of
Diary of a Manhattan Call Girl
by Tracy Quan, a former high-class escort in New York City. A continuation of sorts of her original
53-part serial in Salon.com
,
Diary
is about high-class hooker Nancy Chan's escapades at the "tail end" of her career.




Yet another book is Callgirl by Jeannette Angell, a former Boston-based escort, now professor and novelist, who recounts her life as a paid companion after her (ex-)boyfriend absconds with her money. The now-married Angell apparently concludes her book with a call to legalize prostitution in order to encourage regulation of the sex industry.



The latest of these books, grouped together in a general theme, is the sequel to Tracy Quan's debut, called

Diary of a Married Call Girl

. Yup. It seems that Nancy Chan has gotten married.


For those who have any of these books, happy reading! Now I wish I could say the same for myself, because although I don't intend to read every one, I've yet to get my hands on a single one of them...